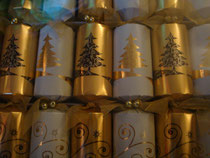 Faced with the task of regularly translating "seasonal" texts for various German publications, company Christmas cards or websites, Paula and I mull over the same problems every year: how to explain in under two words who the hell St. Nikolaus is and why you have to clean your shoes to ensure they will be filled the next morning with chocolate (or a wooden stick if you've been a naughty girl). Or how to translate, for example, "Einen schönen zweiten Advent". How about "We wish you a pleasant second Sunday out of the four before Christmas Eve..." Hmmm, they never said it'd be easy.
But, when we find ourselves feeling too dejected, we think of those less fortunate than us: the English to German translators who have to decipher texts about mistletoe (and why you should avoid standing under it at your office Christmas party), or Christmas crackers (and why the Brits feel obliged to buy them when they're always filled with exactly the same tat). Or spare a thought for those who have to translate the ingredients labels for mince pies, and plum pudding, available here in specialised stores...what the hell is the German word for suet? Rindertalg just sounds too ghastly for words, even without understanding the meaning.
Having had my fair share of both German and British Christmases, I am only too familiar with the bizarre task of having to explain the customs of one culture to the other. I really can't decide which is worse.
The British highlight was at a boyfriend's house one year where I was forced to have Guinness and steak for breakfast (not quite sure if that's a general Brit tradition, or just his alcoholic parents!) But being drunk by eleven was probably what I should have done in Germany, seeing as you have to bloody well sing a song for the German Santa (who is personally standing by, also annoying, why can't he just come down the chimney like the rest of them?), just to get a present out of him. And then everyone proceeds to watch intently while you unwrap said gift, so there is no chance of just waving the weird/unsuitable/ugly/bizarre present from Auntie Barbara across the room at her, shouting a cheery "Cheers Auntie!" because everyone is watching in hushed awe waiting for your reaction...And how come the German kids get to open their presents before us, on Christmas Eve, when most Brits are in the pub or still out frantically shopping? And please, will someone explain why our deutsche Freunde watch a TV screening of 'Dinner for One' religiously every New Year's Eve, a film that most Brits haven't even heard of, even though it's a British sketch?
But all of this festive Christmas 'cheer' aside, Trend Translations would like to take the opportunity to wish you a Frohe Weihnachten and a fabulous Rutsch into the New Year! We're already looking forward to sharing more translation ponderings with you in 2012!