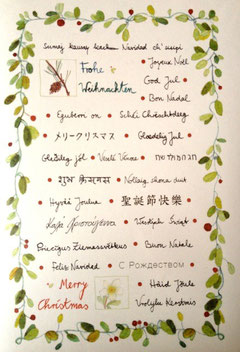 These days it's all too easy to get caught up in the shopping thrills and consumer frenzy at Christmas time, especially if you live in Britain, where every sentimental TV advert, every pre-Christmas price-slashing sale and every 3 for 2 offer seems to be hell-bent on making you splash your entire life savings on this one special day, aka "the most wonderful time of the year". There is even an advert suggesting you are a total penny-pinching square if you make your own presents for your nearest and dearest, rather than buying them the latest state-of-the-art electronic gadget. And when was the last time you received a homemade Christmas card? Exactly. Apparently it's not the done thing anymore.
Most of our translation work centres around consumerism and fashion trends in one way or the other, but lately we have been noticing a change in tone. The concept of luxury is being redefined –and is now equated with high-quality products with a conscience. Designers want to make a difference and have started thinking about their production methods and the footprint their goods leave behind on the planet. Examples include jeans manufacturers inventing ground-breaking laser blasting techniques that don't use up precious resources, or innovative projects donating a full cataract operation for every jacket they sell.
We're not suggesting you take the fun out of fashion, or that we all wear the same jumper and jeans for 20 years, but it is definitely time to stop and think and choose carefully what we buy and when we buy it. Mother Nature will certainly thank us for it. And anyway, wasn't it Yves Saint Laurent who famously said: "Les modes passent, le style demeure" (Fashion goes, style remains)? Perhaps this is some important food for thought next time we're considering spending our hard-earned cash on the latest fleeting fashion trend that will end up at the bottom of our wardrobes by next season anyway.
Our consumer choices affect human beings all the way down the supply chain: one cheap pair of jeans could have the combined misery of child labour, polluted rivers and lung disease for its workers stitched into its hem, whilst at the other end of the spectrum, the proceeds from a winter jacket from IWISHUSUN can give someone the gift of sight and TOMS gives a pair of new shoes to a child in need with every pair you purchase. Such charitable fashion has the potential to back village communities, putting them back to work using their traditional skills at fair wages. So it's a win-win situation, as in return you get a garment that's well made and ecologically sustainable.
So it's definitely a question of "think before you buy", and perhaps buying just one pair of high-quality, fairly produced jeans instead of three cheap ones that you're likely to throw away after a few months. And before you buy your best mate that oh so hilarious giant Christmas tree hat or flashing reindeer antlers on your frantic last-minute shopping spree on Christmas Eve, why not bake her some cookies instead, or give her a voucher for free hugs or a home-cooked meal for when she has had a bad day…or promise to accompany her on her next "find the perfect jeans" trip, and steer her in the right direction!
On that note the Trend Translations team would like to wish you a relaxing festive season and a very merry Christmas. Here's to a happy and successful 2013 when we'll be supplying you with lots more musings on etymology and neologisms! And if you haven't already "Liked" us on Facebook, what are you waiting for?