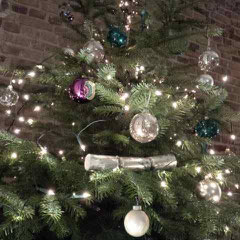 The Trend Translations team wishes you all a very merry Christmas and a happy, healthy and successful New Year! We hope you all have a "guten Rutsch" (a good slide) into the New Year, in Berlin, Cologne, London or Newcastle, or wherever else in the world you may be!
After a busy year translating, we are looking forward to some well-deserved offline time, but we'll be back with fully-charged batteries in 2014, ready to take on all kinds of interesting new projects.  Until then, here is Galina's take on the weird and wonderful New Year celebrations in Berlin:
Once the Christmas markets have packed up and left town, presents have been opened, the duck and Rotkohl have been eaten and you've done your duty of watching "Dinner for One" for the umpteenth time "because it's a tradition", it's time to see in the New Year with your nearest and dearest! Yes, dear Brits and Americans, you may know this as the day of getting plastered and chance to snog xyz down the pub in your newest sparkly outfit whilst singing Auld Lang Syne at the top of your voice. But Berliners like to go one better than that. This is the one day of the year that they really like to hit the streets and live dangerously: we are talking fling-all-caution-to-the-wind-night….let's go wild and expose ourselves and our kids to crazed teenagers flinging live ammunition at us, ricocheting off buildings and the walls of the cavernous underground tram system (a definite area to avoid for tourists is Alexanderplatz underground station at around quarter past midnight). Oh and if it's icy underfoot and freezing cold? All the better! Just put on your warmest coat, boots, hat and scarf and grab that bottle of Grasovka or cheap Sekt out of your rucksack and you'll start to feel all toasty inside before you know it. Oh and if you happen to have kids, you get to light some fireworks yourself and watch them go "futt futt" in the snow (where DO those teens get their wild killer rockets from?) while your kids cry of cold and exhaustion and you try and convince yourself it was a great idea getting them to stay up till 12. Small tip for tourists: avoid all streets with overhanging balconies as that's where the older, "more sensible" lot like to congregate for their firework displays. Oh that's all the streets in Berlin, then. Hmm. Where I will be? Hiding under my duvet watching "Home for the Holidays" starring Holly Hunter for the umpteenth time! See you in 2014!